Meet Your Loan Officer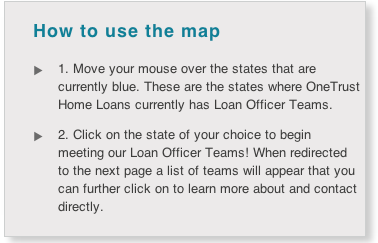 Finding the right Loan Officer Team is an integral part of making a real estate decision. Whether you're buying a new home, refinancing your current home, or expanding your real estate portfolio, the right Loan Officer Team will speed the process along with ease. What should you look for when choosing a Loan Officer Team?
Here at OneTrust Home Loans, our Loan Officer Teams are required to have knowledge, integrity, superb communication skills, proactive problem solving skills, and the energy to complete the job. To find the Loan Officer Team that's right for you, click on your state below!