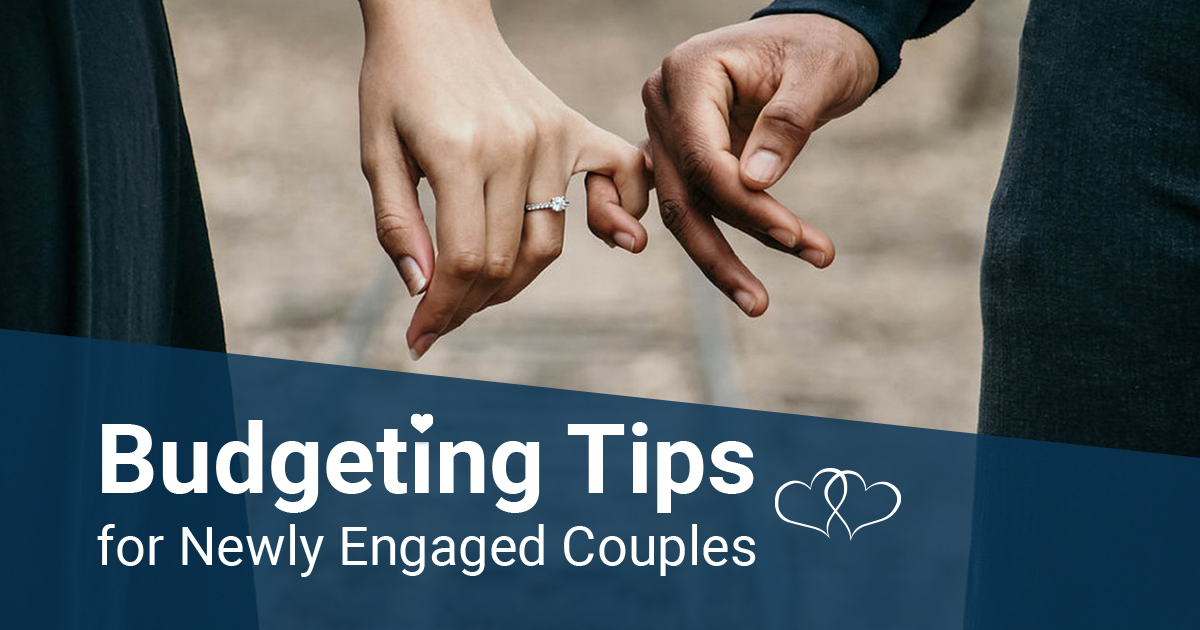 When you're newly engaged, figuring out how you are going to pay for all the upcoming expenses involved in planning a wedding, a honeymoon, and possibly moving, can quickly become overwhelming. Developing a budget together as a team for all your expected expenses can help keep you on track to achieve your goals while managing the stress.
Create a Plan of Action
The first step in developing a budget is to sit down together and develop a plan. In order to do this, you will need to determine what you are saving for, where your priorities lie, and how will you achieve your goals. For example, if you have many competing goals like a wedding, honeymoon and new home on your agenda, determine together which is the most important. Next, you will need to decide how much you will need to achieve your goal. This will require figuring out how much you are willing to spend on each these items. You might find out during these conversations that you and your partner's priorities may be different and that's ok. Discussing these issues will help you learn more about your partner's way of thinking and spending habits.
Develop a Budget
Once you have put together a list of your desired items in order of importance, you'll want to work together or with a neutral third party to develop a budget. This process should include totaling how much money you are bringing home each month, understanding your current expenses, including what you are putting toward savings, and your big-ticket items that you are saving towards. You will notice that the money "leftover" to put towards your big-ticket items might be slightly less that what you first anticipated. If this is the case, you may need to adjust your priorities. For example, if getting married soon is high on your priority list, you may need to adjust your expectations of the event, so your budget meets your expenses.
Think About Cutting Corners
Now that you have seen in black and white how much money you have at the end of each month, start discussing where you can cut corners to help save for those big-ticket items even faster. For example, if getting a morning coffee at the local coffee shop has become your daily ritual, this is a habit that could be costing you as much as $20/week or $80/month. Imagine putting that $80 towards your new home. Other areas you can consider cutting down on are streaming services, cellular phone bill, retail shopping, eating out, and transportation.
Open Bank Accounts for Each of Your Goals
If you are saving for one or more big-ticket items, consider opening a bank account for each one with automatic deposits. There is nothing more satisfying than watching a bank account increase in value. If you are saving for a honeymoon or new home, open a bank account and determine how much you can contribute on a weekly or monthly basis. Then sit back and watch it grow. Be careful though, this isn't an emergency account to help with car repairs or home improvements. If you anticipate that you may need money for something like car repairs since you or your partner are driving an older model vehicle, just like your other items, open an account and set aside money for that type of emergency. This will help you stay on track.
Manage Expectations
When couples first start to plan out their life together, they have dreams of grandeur. Some of these expectations come from television. With shows like Say Yes to the Dress and House Hunters, we have come to expect a lot out of our wedding dress or first home. Increasingly, couples are choosing to spend exorbitant amounts of money on their wedding to keep up with what they see on social media. However, it's important to keep in mind that the number one cause of divorce in the first year of marriage is an expensive wedding. At the end of the day, you don't want to start a new marriage deep in unnecessary debt. Keeping up with the Jones' is not only expensive, it is unrealistic. Living within your means will allow you to live your best life.
If you're interested in reading more blogs about budgeting and finances take a look at our blog How Do American Households Making 6 Figure Incomes Spend Their Money?