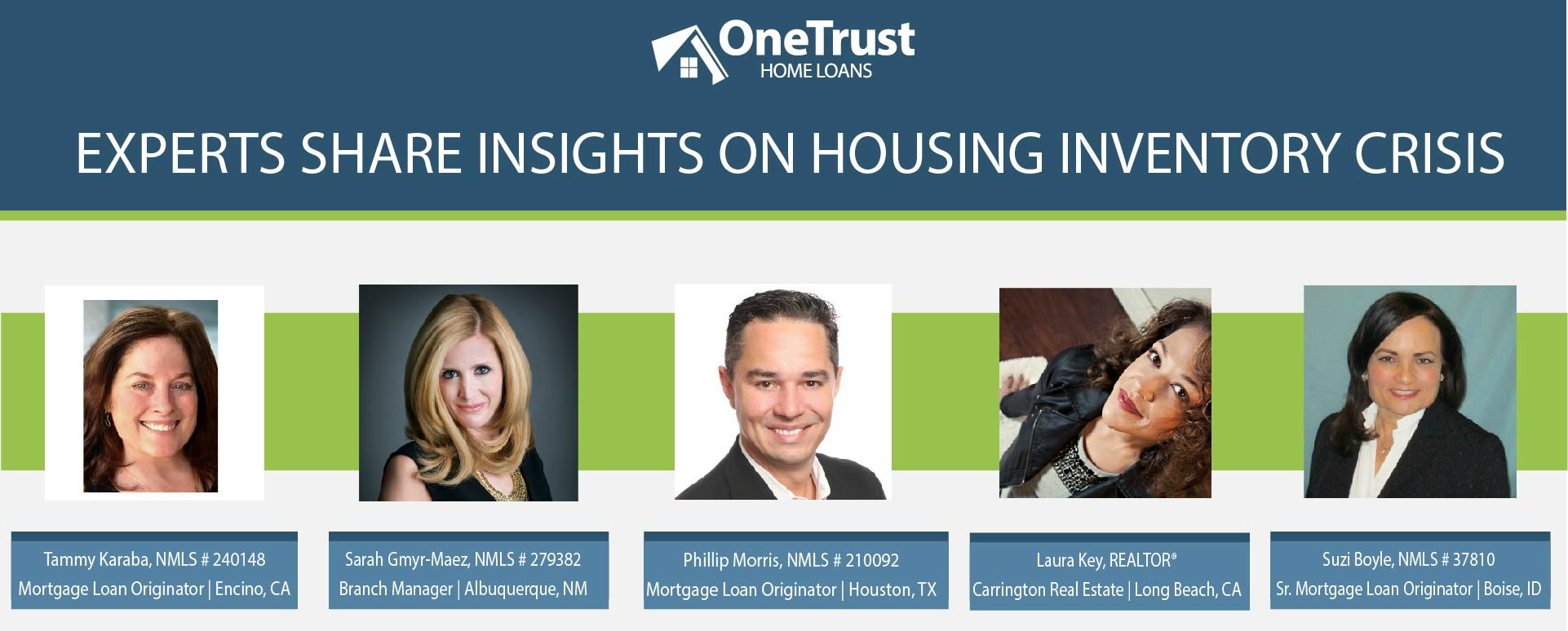 If you're in the market to buy a home, your real estate agent has likely explained that home inventory within the US housing market is down. Reasons for this vary, but include the fact that a larger share of homes have been purchased by investors, which has led to higher prices and fierce competition between buyers. We asked a panel of experts about the current state of the housing market to find out what home buyers can expect, and how they can compete to buy their dream home. Let's take a look at what they had to say.
Meet Our Panel of Experts
Tammy Karaba is a mortgage loan originator in Encino, CA. She's been a licensed loan officer since 1999 and is currently licensed in California and Nevada.
Suzi Boyle is a mortgage loan originator in Boise, ID. She's been in the industry for over 28 years and has closed more than 7,000 home loans.
Phillip Morris is a mortgage loan originator in Houston, TX. He's been providing mortgage financing to families since 2004.
Sarah Gmyr-Maez is a Branch Manager in Albuquerque, NM with years of experience in the mortgage industry. She works hard for her clients and has been recognized as a top mortgage loan originator year after year.
Laura Key is a REALTOR® at Carrington Real Estates Services in Long Beach, CA. She's well known in the area, having served the market since 2006. She's dedicated to going the extra mile for her clients.
With the high demand and low inventory, what can a buyer do to compete with other offers?
Laura Key has strong advice for buyers, saying "Be patient, be wise. Have your agent run comparisons for the area before putting an offer in on a home and be comfortable if you're not the highest bidder at the time. I have closed a lot of 'back-up' deals because the first accepted offer did not close. Patience is key."
Tammy Karaba added that a potential homebuyer "needs to get a strong pre-approval from a reputable loan officer or lender". It's important to keep in mind that a lower offer with a strong pre-approval can look more favorable than a higher offer with no pre-approval.
Do you foresee the current housing inventory issue persisting throughout the near future?
"Yes – there are less foreclosures now, which was helping inventory in the past," noted Sarah Gmyr-Maez. "To get out of the current situation, new home developments need to be built." Unfortunately, home construction numbers fell slightly in spring 2017, so it doesn't appear that this will happen soon.
Laura Key explains that this "seller's market" will come to an end when home prices get to the point where buyers are no longer able or willing to buy. "Once that happens, the offers will stop coming in and sellers will be forced to drop their prices. At some point the market is going to break, but until money stops flowing, it won't change."
How has the business of real estate agents been affected? Are they doing anything different to combat it?
Laura Key had more great insight to offer about this topic. She said "Deeper business relationships are happening. It is critical that all involved are on the same page. This includes: Real Estate Agents, Lenders, Title Reps, Escrow professionals and even vendors. When all pieces of the puzzle are present it creates a unified front, all with a single goal in mind: to assist the buyers and sellers."
Sarah Gmyr-Maez also added that real estate agents are now "ready to go with their loan before even showing a home and letting the customer know that if they do see one they like they need to make an offer right away because it will be gone if they wait."
In today's market, those that are looking to buy a home need to make sure they have a reliable and experienced real estate agent to help navigate the home buying process.
What steps would you advise a potential homebuyer to take when buying in the current market?
Suzi Boyle had a telling story about her experience over Memorial Day weekend. 12 of her clients made strong offers on homes, all of which she anticipated would be accepted. Of those 12 offers, only 4 were accepted. The 4 that were accepted had one thing in common: an escalation clause. An escalation clause promises that a buyer will increase their offer up to a certain amount if there are competing offers. With home inventory so low, the best way to increase the likelihood that your offer is accepted is by adding an escalation clause.
The Bottom Line
Phillip Morris recommended the following if you're serious about buying a home in today's competitive market:
Have a budget.
Get pre-approved.
Gather all your financial documents and be ready to move on a home quickly.
Keep your goals in mind. Be open with your mortgage loan originator and real estate agent about what you can and can't afford.

Click here if you would like to learn more about what steps to take when buying a new home. Don't let the current market get you down! With a reliable real estate agent and mortgage loan originator, the process can be quick and easy. Call us today at (877) 706-5856 to get a quote!