What you need to know about eClosing and eSigning
Electronic mortgage closings, or eClosings, is the process when the majority of loan documents that require a customer's signature at the time of loan closing are sent electronically and signed with a digital signature. eClosings can help reduce the time spent signing closing documents, eliminate additional fees and delays from missed signatures, and can be done from the comfort of your home.
Types of eClosings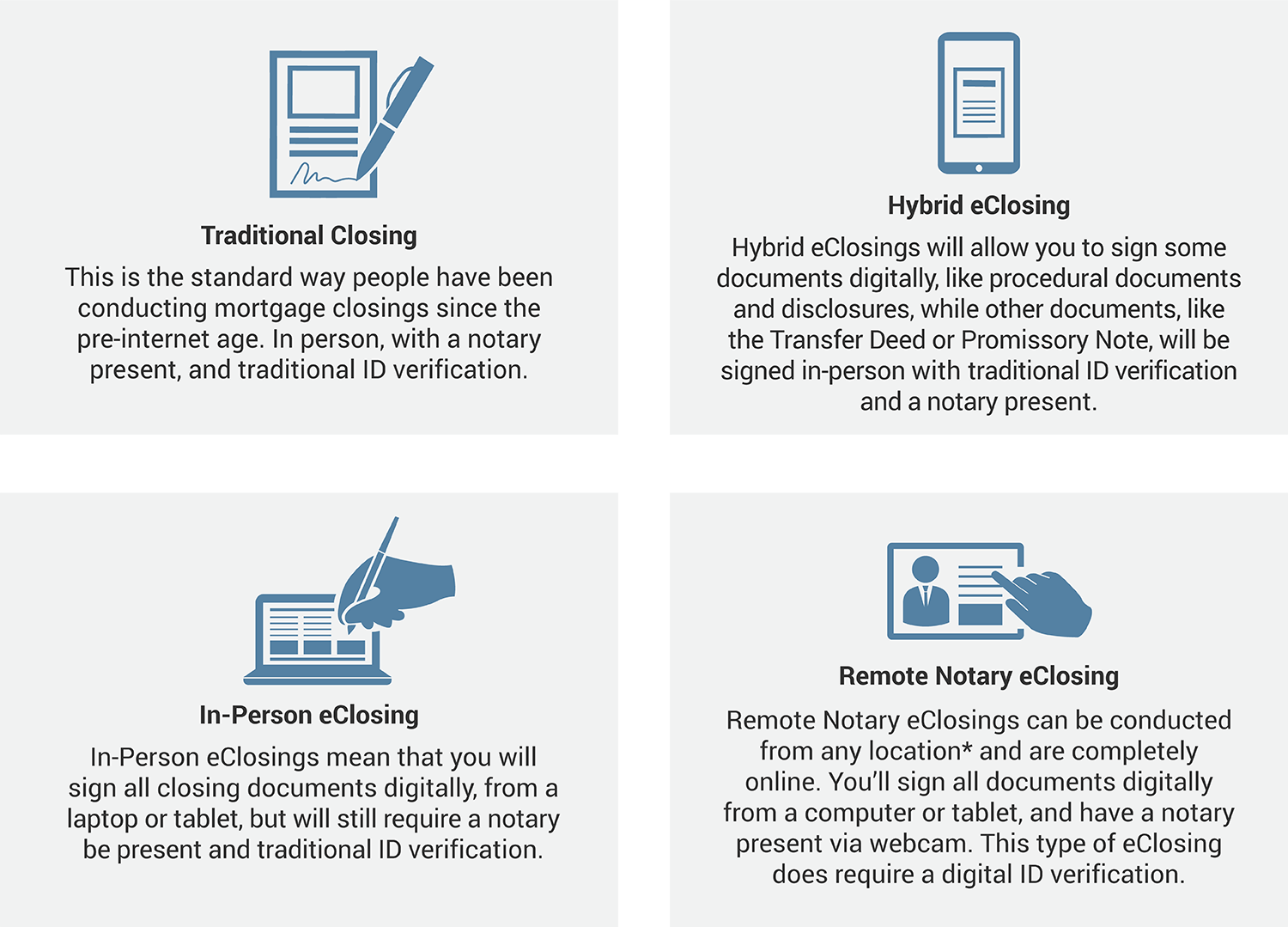 The eClosing Process
The eClosing process is very similar to the traditional closing process, you'll simply be signing some or all closing documents (depending on your type of eClosing) digitally instead of with paper and ink.
Digital ID Verification
Digital ID verification confirms you are who you say you are by comparing an uploaded image of an ID like a government issued driver's license or passport with a government database. Automated technology analyzes the uploaded image, scanning for different authentication features, and verifies your identity in seconds.
Which documents will I sign digitally?
When you choose to move forward with an eClosing, it's important to keep in mind that the documents you sign digitally will depend on the type of eClosing. Below is a breakdown of the types of documents you will be asked to sign during the closing process.
Notarized Documents
Documents establishing the transfer of property ownership must be notarized and recorded in the public register. These documents include, but are not limited to:
Transfer Deed
Security Instrument
Financial Documents
Certain financial documents for your closing must be stored and registered with systems that track who owns the servicing of these loans. These documents include:
Digital eNotes
Lender's Promissory Note
General Documents
Other documents are required to be stored with the lender and title company, with copies sent to the customer, like:
Customer disclosures
Procedural documents
Types of eSignatures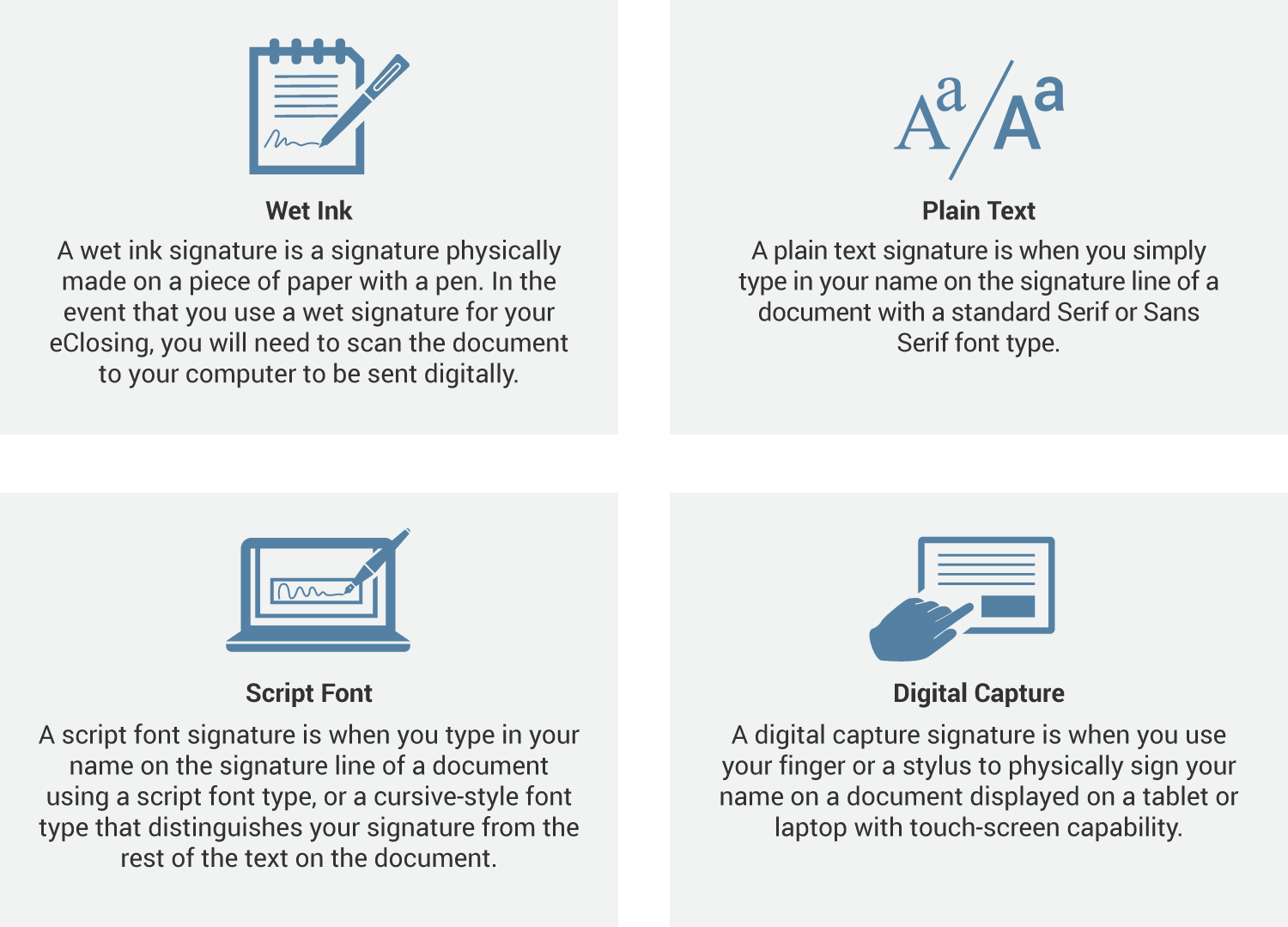 Types of Notaries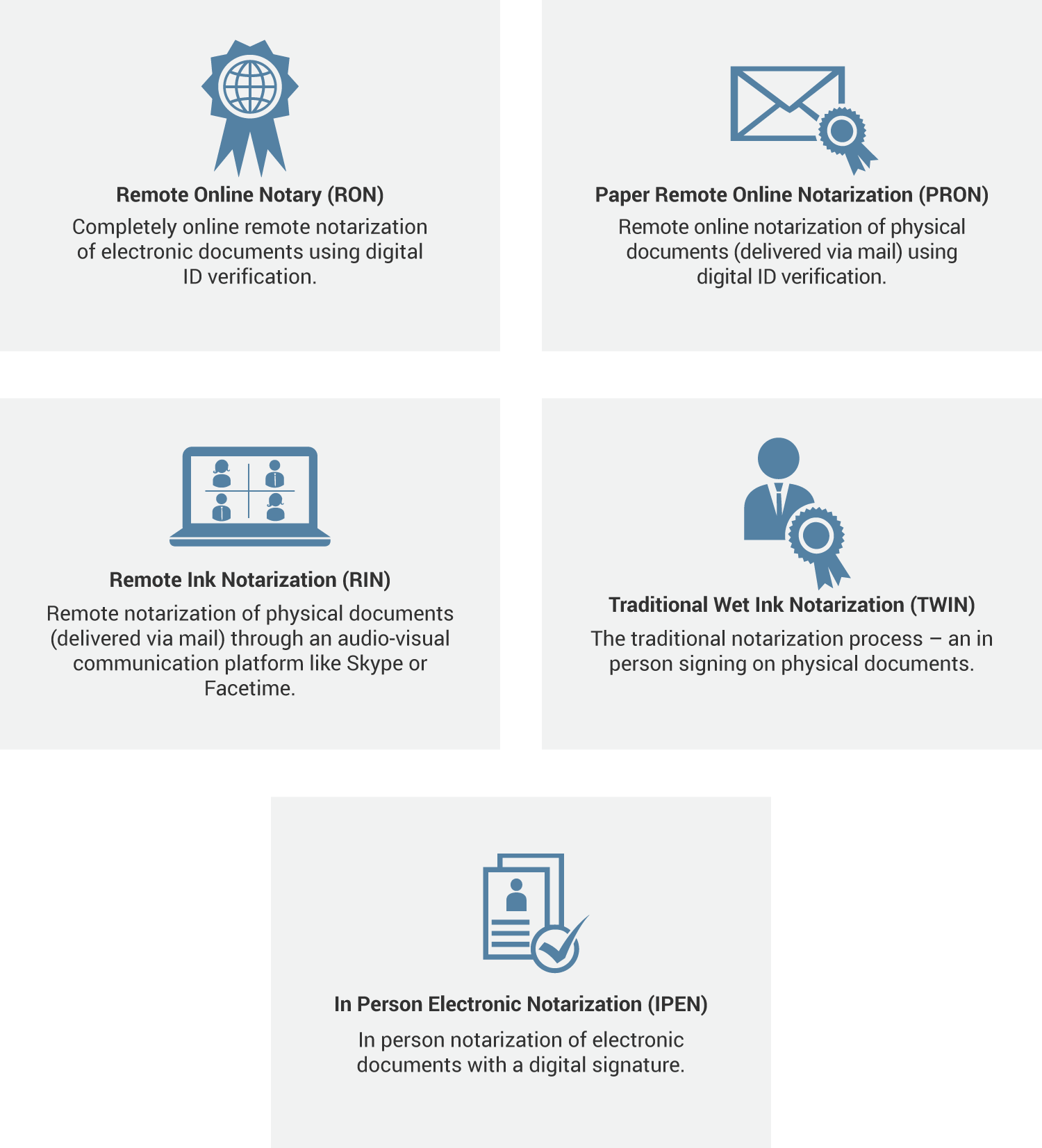 Why Choose eClosing?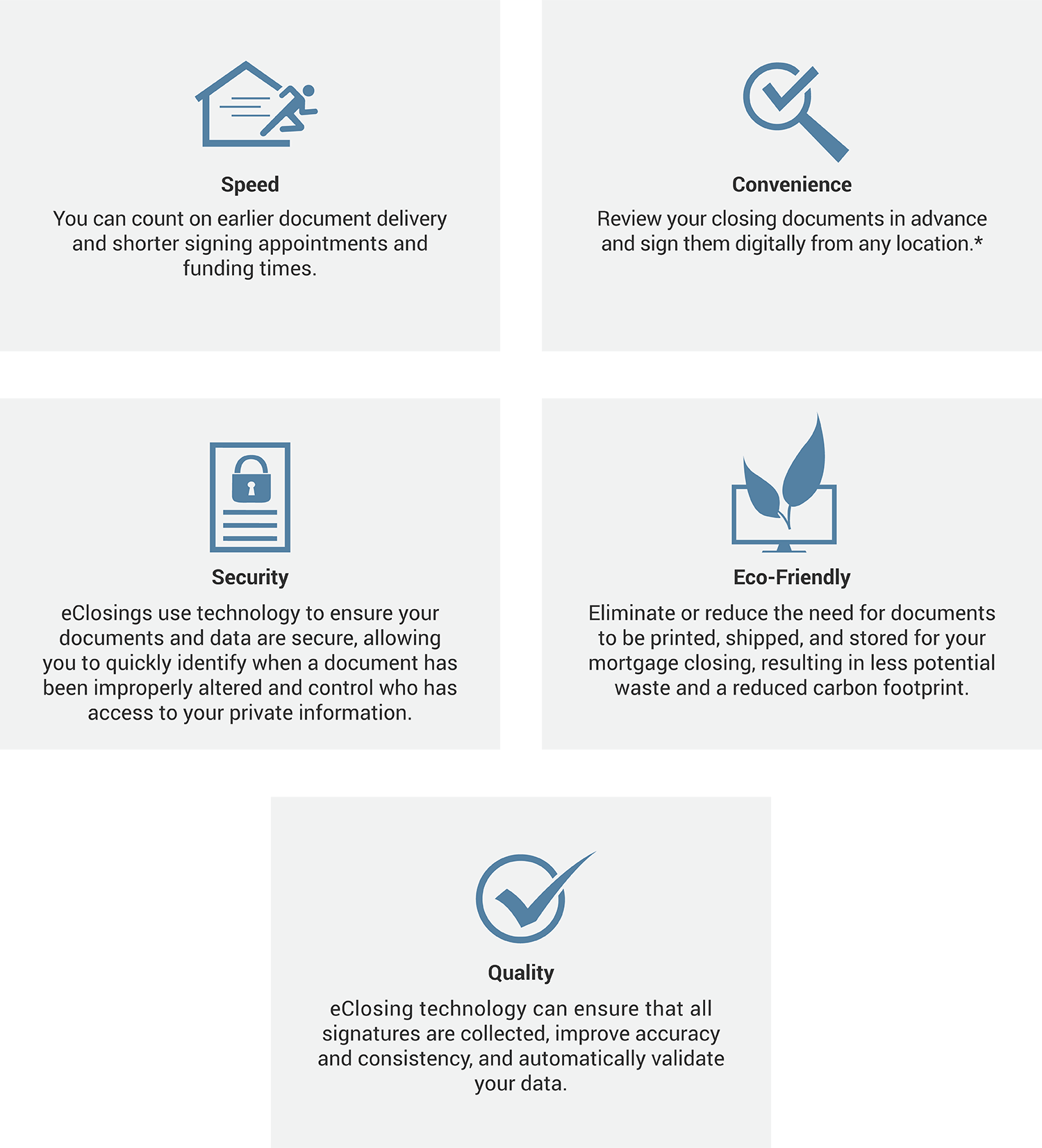 eClosing: Is it right for you?
eClosings are a convenient option that is available to homebuyers, but it's not a process that will work for everyone.
You may find eClosings are the right option for you if:
You are comfortable with technology like computers, tablets, and the internet, and would be more comfortable on your computer than working face-to-face with a loan officer and other parties involved in the closing process.
You want to cut down on potential delays tied to shipping and closing costs by reducing closing document printing.
You trust technology to catch missed signatures and other mistakes that can cause issues later on.
You may want to stick to a traditional closing process if:
You do not feel comfortable with technology or do not have access to a computer, tablet, or reliable internet access.
You are located in a state that does not allow certain types of eClosings.
You would prefer to work face-to-face with your loan officer and other parties involved in the closing process.
Which states allow eClosing?
Hybrid eClosing
Hybrid eClosing is available in all states.
Remote Notary eClosing
Alaska
Arizona
Arkansas
Colorado
Florida
Hawaii
Iowa
Idaho
Indiana
Kentucky
Louisiana
Maryland
Massachusetts
Michigan
Minnesota
Missouri
Montana
Nebraska
Nevada
North Dakota
Ohio
Oklahoma
Oregon
Pennsylvania
Tennessee
Texas
Utah
Virginia
Vermont
Washington
West Virginia
Wisconsin
Wyoming