The times they are a-changing, but achieving the American dream of homeownership still rings true for many. Although it can be challenging in many markets, just pick up a magazine or open your laptop and you will read that millennials are finally in the market to buy a home. And here at OneTrust Home Loans, we're passionate about assisting the heroes of our country; many of our clients are VA home loan American dream achievers.
Many Veterans and servicemen and women are eligible to use their VA benefits to purchase a home, or even refinance their current home, but simply don't know about it. And in Houston, Loan Officer Wesley Hunt, is going above and beyond to bring this education to his local community.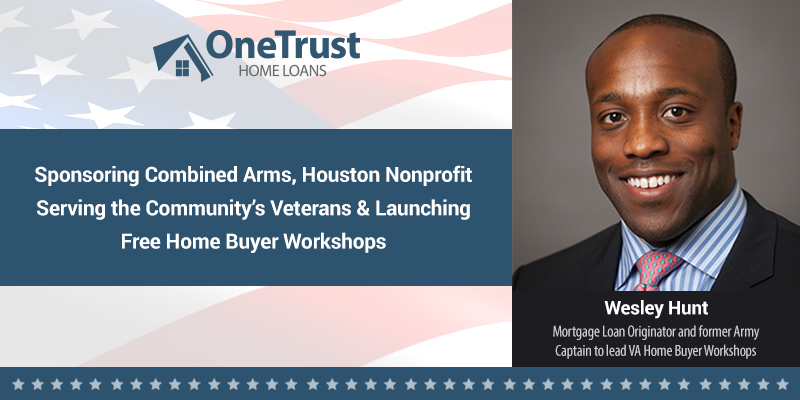 Wesley and OneTrust Home Loans have partnered with Combined Arms, a nonprofit in Houston, TX that connects a variety of partner organizations that offer services for military and former military, and their families, with those in the local Houston community. Through the organizations that have aligned with Combined Arms, veterans can learn about and access various programs and services that assist with job training, job searches, career placement, disability checks, financial services, education and training, family services, wellbeing, professional networking, veteran advocacy, community involvement, and more.
Combined Arms recently opened a new facility, where the community can visit to learn more about the programs, and OneTrust Home Loans is excited to have been part of the contributions to make this facility possible. In addition, Wesley Hunt actively visits the facility at least once a month to offer free home financing workshops to those interested in taking the next step toward the dream of homeownership
Former Army Captain, Wesley Hunt is passionate about the sponsorship. Having served the Army as an aviation branch officer for 8 years, with one deployment to Iraq and two deployments to Saudi Arabia, Hunt understands firsthand the impact the nonprofit will have on veterans and the Houston community. He comments, "homeownership is a key part of the American dream, we need to make this dream a reality for our veterans, and be proactive about preventing homelessness and the other issues that plague the veteran community."
Hunt's goal for the home financing seminars is to help Veterans understand what to expect when they go through the home loan process. During the workshop, Hunt goes over the importance of your credit score, the key players in the home buying process, when to start talking to a mortgage lender, when to contact a real estate agent, and general knowledge about how to prepare to buy a home.
The VA Home Loan program was designed for the heroes of our country, providing Service-members, Veterans, and eligible surviving spouses the ability to reach the American dream of home ownership. If you are a Veteran looking for a mortgage, we encourage you to start your search right here at OneTrust Home Loans! Give us a call at (877) 706-5856. Our mortgage professionals will walk through your options to find the best solution for your home financing needs!
To learn more about Combined Arms Visit the Combined Arms Website .
To learn more about VA home loan opportunities, visit https://onetrusthomeloans.com/lo/WHunt