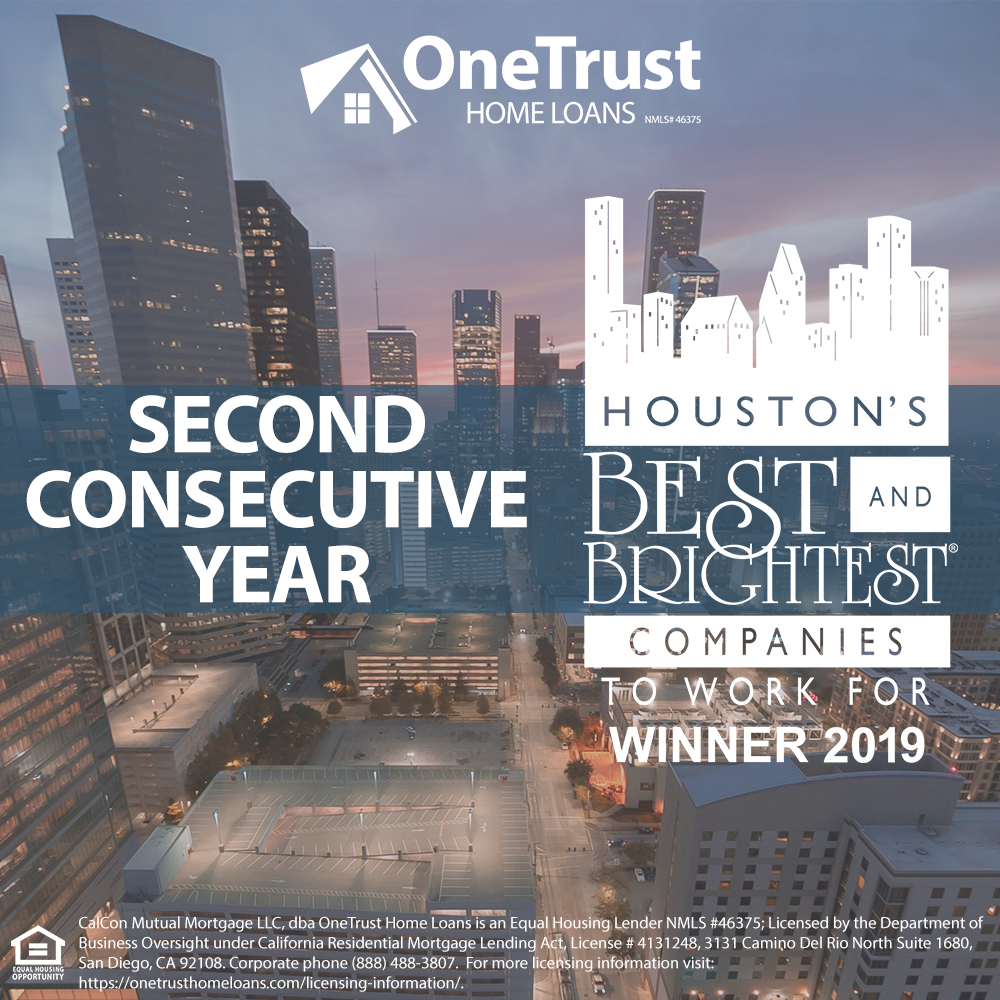 Houston, TX – OneTrust Home Loans, a leading mortgage lender headquartered in San Diego, CA, with two retail branches and a strong builder lending team based in Houston, has been recognized as one of Houston's Best and Brightest Companies to Work For by the National Association for Business Resources.
Winners were determined by an independent research firm, assessing responses from two sources – a survey distributed to the lender's employees located in Houston and a questionnaire completed by their Human Resources department. Each entry was evaluated based on key measures in various categories, ranging from Compensation & Benefits to Diversity & Inclusion. This year's winners practice innovative strategies and represent best practices in industries as diverse as energy, medical, financial services and nonprofit.
When asked about being recognized for the second year in a row as a Best & Brightest Company to Work For, Josh Erskine, OneTrust Home Loans CEO, said, "OneTrust Home Loans has recently opened another new retail branch in Houston and we are continuing to see growth in the area, so we are very excited to see our hard work is continuing to be recognized by organizations like the National Association for Business Resources. We really believe in our core values of integrity, innovation, transparency, and greatness, and thus have been able to attract some of the best talent that Houston has to offer. I know that it's because of the hard work of our people in Houston that we are consistently receiving recognition as one of the best workplaces in the area."
About the Best and Brightest Programs
The Best and Brightest Companies to Work For® is a program of the National Association for Business Resources that provides the business community with the opportunity to gain recognition, showcase their best practices, and demonstrate why they are an ideal place for employees to work. This national program celebrates those companies that are making better business, creating richer lives and building a stronger community as a whole.
About OneTrust Home Loans
OneTrust Home Loans is a privately-owned direct lender and servicer with sales and operations across the country.  OneTrust's model is similar to a bank, using its own capital to build its balance sheet of quality, sensible, loans. In addition to the standard loan options like Conventional, FHA, VA, USDA, and Jumbo, OneTrust also boasts Portfolio and Construction Lending divisions.  OneTrust Home Loans places special importance on customer service as evidenced by their tagline, Service is Everything!® For additional information visit www.OneTrustHomeLoans.com.