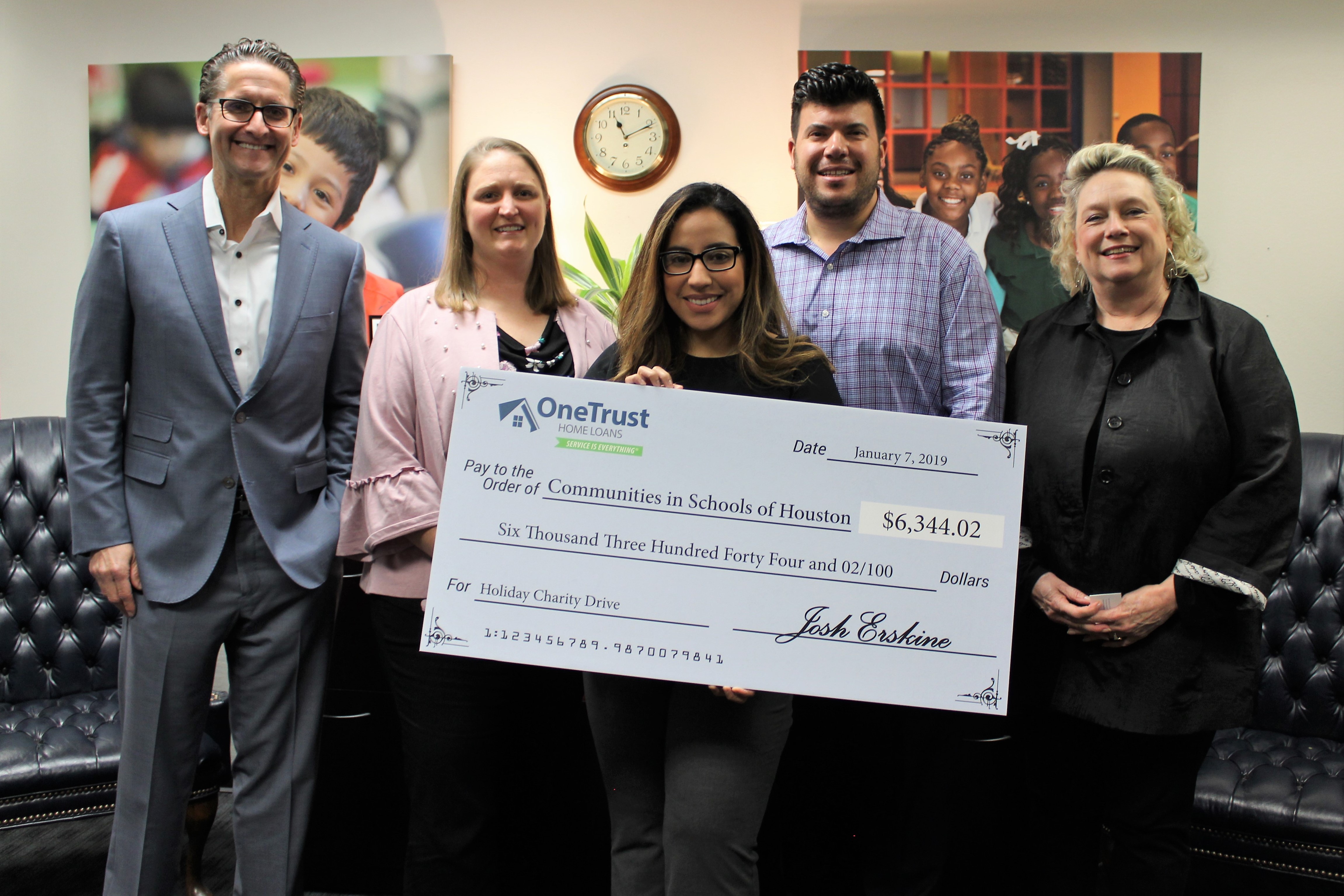 Houston, TX – OneTrust Home Loans, a leading mortgage lender with multiple local branches in Houston, TX, hosted their first annual Holiday Charity Drive in December 2018 to raise money for the local charity Communities in Schools of Houston. Employees collectively donated $3,172, and with OneTrust matching at 100%, the charity received a grand total of $6,344 in donations.
Communities in Schools (CIS) of Houston is a local charity whose mission is to "surround students with a community of support, empowering them to stay in school and achieve in life…Because CIS believes in the power of relationships, we provide on-campus integrated student supports that empower students to succeed in school and achieve in life." In their K-12 program, the charity boasts immense success. Of all CIS students:
99% stayed in school
98% saw improvement in their academics, behavior, and/or attendance
96% of students were promoted to the next grade level
92% of CIS eligible seniors graduated
OneTrust chose to benefit CIS of Houston last month because of their dedication to bettering the local communities that their branches support and the charity's stellar reputation throughout the Houston area. Donna Wotkyns, Director of Development at CIS of Houston, said in response to the charity drive, "It is a real treat for us to have someone reach out to us out of the blue and respond with such impact. We very much appreciate the funding! Thank you!"
Shane Erskine, President of OneTrust Home Loans, and Jeff Wagner, Vice President of National Sales & Support, had the opportunity to visit the CIS of Houston offices to present the final check and learn more about how the charity plans to use the new funds. Not only will it be used to put guidance counselors in schools, but the money will also go towards purchasing school supplies and providing meal funds for under-privileged students. After the visit, Shane Erskine said, "We're proud that our employees came together to donate to this amazing charity. CIS works every day to improve the lives of young students, and in turn, the community around them. I believe that this money will go further than just providing a salary to a guidance counselor or buying some pencils. If it helps to alter the projection of just one at-risk student's life, then every penny will be well worth it."
About OneTrust Home Loans
OneTrust Home Loans is a privately-owned direct lender and servicer with sales and operations across the country.  OneTrust's model is similar to a bank, using its own capital to build its balance sheet of quality, sensible, loans. In addition to the standard loan options like Conventional, FHA, VA, USDA, and Jumbo, OneTrust also boasts Portfolio and Construction Lending divisions.  OneTrust Home Loans places special importance on customer service as evidenced by their tagline, Service is Everything!® For additional information visit www.OneTrustHomeLoans.com.