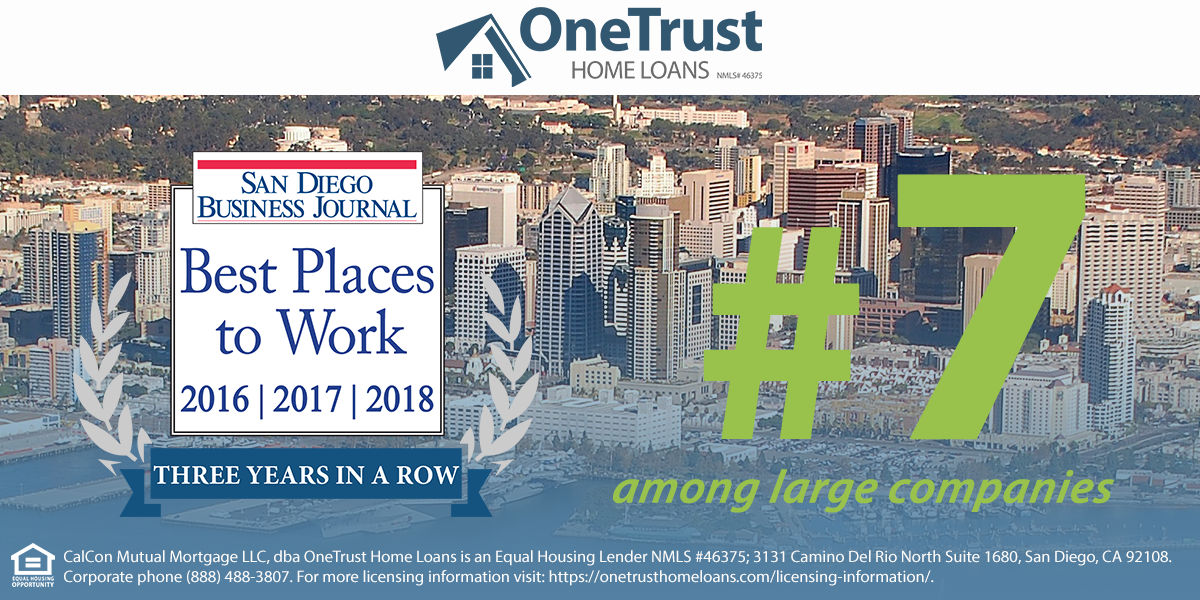 San Diego, CA – OneTrust Home Loans, a leading mortgage lender headquartered in San Diego, CA, has been recognized as one of the San Diego Business Journal's 2018 Best Places to Work for the third year in a row, ranking #7 in the large companies category.
Every year, the San Diego Business Journal publishes a list of companies that are dedicated to providing a great workplace for their employees. 'Best Places to Work' winners prioritize best practices including rewarding hard-working employees, investing in employee training, engaging in the wellness and health of employees, providing opportunities for team building, and more. Find more information on the Best Places to Work in San Diego program here.
Josh and Shane Erskine, OneTrust Home Loans' CEO and President respectively, have a mission to bring the highest possible level of transparency and service to their customers during the home loan process. Shane Erskine gave a statement in response to being included on the list: "We're excited to have been recognized once again as a Best Place to Work in San Diego. We'd like to thank every OneTrust team member for the part that they've played in fostering a collaborative work place where their fellow employees feel appreciated, important and do their best work."
When OneTrust employees were asked what they think makes their company a Best Place to Work, Laura Klein, leader of the Client Manager team, said, "OneTrust works very hard and does an excellent job at making employees feel that their opinions matter.  OneTrust encourages open and honest feedback and ideas from their employees. Josh and Shane truly care about their employees and it really just comes across in everything they do and say."
About OneTrust Home Loans
OneTrust Home Loans is a privately-owned direct lender and servicer with sales and operations across the country.  OneTrust's model is similar to a bank, using its own capital to build its balance sheet of quality, sensible, loans in addition to the standard loan options, including Conventional, FHA, VA, USDA, Jumbo and more. OneTrust Home Loans places special importance on customer service as evidenced by their tagline, Service is Everything!® For additional information visit www.OneTrustHomeLoans.com.