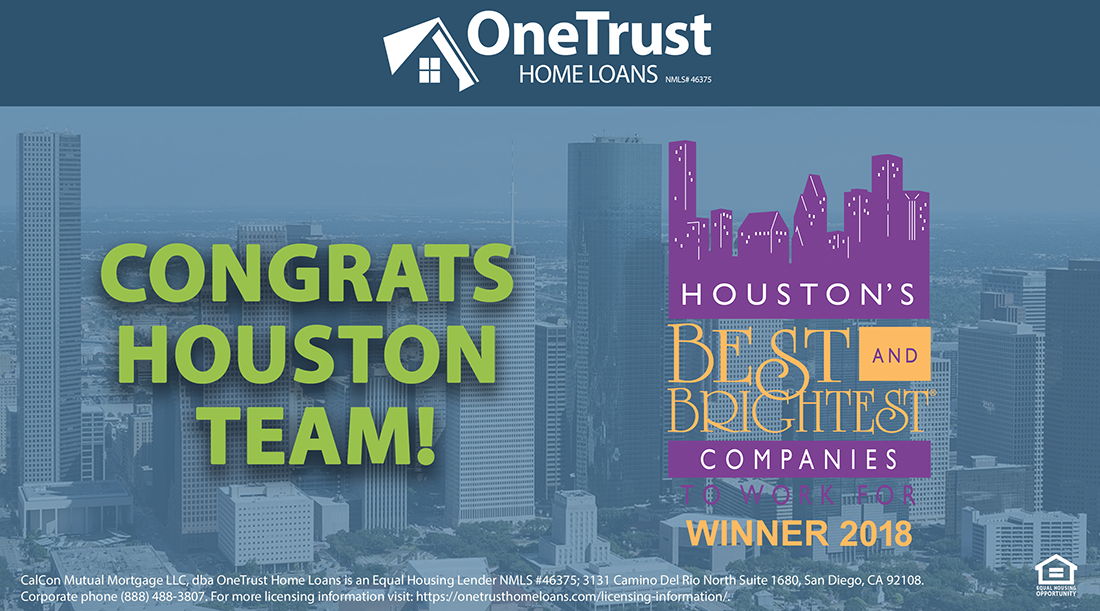 Houston, TX – OneTrust Home Loans, a leading mortgage lender headquartered in San Diego, CA, has been recognized as one of Houston's Best and Brightest Companies to Work For by the National Association for Business Resources.
Winners were determined by an independent research firm, assessing responses from two sources – a survey distributed to the lender's employees located in Houston and a questionnaire completed by their Human Resources department. Each entry was evaluated based on key measures in various categories, ranging from Compensation & Benefits to Diversity & Inclusion. This year's winners practice innovative strategies and represent best practices in industries as diverse as energy, medical, financial services and nonprofit.
When asked about being recognized as a Best & Brightest Company to Work For, Phillip Morris, a Mortgage Loan Originator and leader in Houston, said, "Reflecting on the title of Best & Brightest, OneTrust is always working to create innovative and meaningful loan products to support the local community's needs.  We've recently trialed and will soon be publicly releasing an exciting program that works to help those displaced by Hurricane Harvey.  OneTrust's Hurricane Harvey Flooded Home Program allows owners to tap their equity before much-needed repairs are completed and allows new buyers to purchase the home with our loan funds and complete repairs after closing with their own funds. This product is unheard of in the consumer lending space, but OneTrust saw the needs of the local Houston community and took action. That's why I know OneTrust is a truly great place to work."
In addition to this acknowledgment in the Houston area, OneTrust Home Loans has also been recognized in the San Diego region as a Top Employer. This includes being ranked by both the San Diego Business Journal and the San Diego Union Tribune as a Best Place to Work in 2017.
About the Best and Brightest Programs
The Best and Brightest Companies to Work For® is a program of the National Association for Business Resources that provides the business community with the opportunity to gain recognition, showcase their best practices, and demonstrate why they are an ideal place for employees to work. This national program celebrates those companies that are making better business, creating richer lives and building a stronger community as a whole.
About OneTrust Home Loans
OneTrust Home Loans is a privately-owned direct lender with sales and operations across the country. The mortgage lender provides an array of loan options including conventional, FHA, VA, USDA, Jumbo and more. OneTrust Home Loans places special importance on customer service as evidenced by their tagline, Service is everything!® For additional information visit www.OneTrustHomeLoans.com.