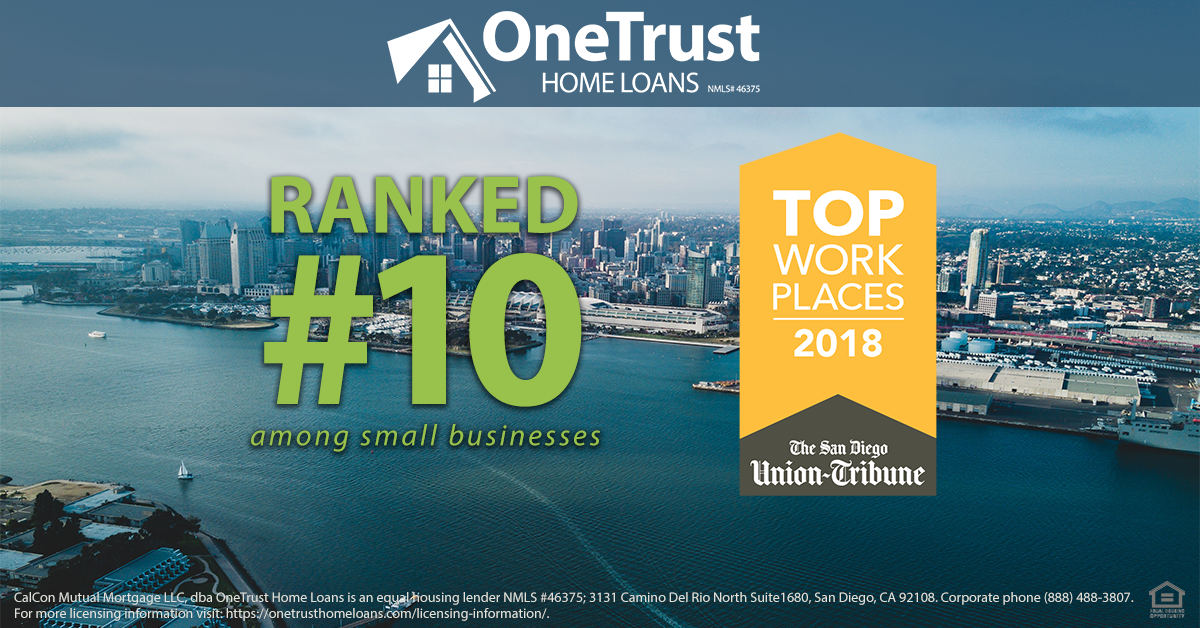 San Diego, CA – OneTrust Home Loans has been awarded a 2018 Top Workplaces honor by The San Diego Union-Tribune for the second consecutive year. This year, OneTrust ranked 10th in the small business category, up from their ranking of 14th last year. The Top Workplaces lists are based solely on the results of an employee feedback survey administered by Energage, LLC, a leading research firm that specializes in organizational health and workplace improvement. Several aspects of workplace culture were measured, including Alignment, Execution, and Connection, just to name a few.
Josh and Shane Erskine, OneTrust Home Loans' CEO and President respectively, have a mission to bring the highest possible level of transparency and service to their customers during the home loan process. To continually achieve this goal, OneTrust hires employees who are as committed to service as the company executives, and fosters an environment where employees are free to collaborate and do their best work.
"Top Workplaces is more than just recognition," said Doug Claffey, CEO of Energage. "Our research shows organizations that earn the award attract better talent, experience lower turnover, and are better equipped to deliver bottom-line results. Their leaders prioritize and carefully craft a healthy workplace culture that supports employee engagement."
In response to receiving this award, Josh and Shane commented in a joint statement, "We're honored and excited to have been recognized as a Top Workplace by the San Diego Union-Tribune once again. Our goal as a company is to not only hire the best, but to give our employees the opportunity to be their best while at work. It's because of the hard work of every single OneTrust Home Loans employee that our company consistently gets recognized both locally and nationally as a top workplace. We'd like to thank everyone for their dedication to OneTrust's values and mission."
OneTrust Home Loans has also been recognized as a Best Place to Work by the San Diego Business Journal as well as one of the nation's fastest growing companies by Inc. 5000.
About OneTrust Home Loans
OneTrust Home Loans is a privately-owned direct lender and servicer with sales and operations across the country.  OneTrust's model is similar to a bank, using its own capital to build its balance sheet of quality, sensible, loans in addition to the standard loan options, including Conventional, FHA, VA, USDA, Jumbo and more. OneTrust Home Loans places special importance on customer service as evidenced by their tagline, Service is Everything!® For additional information visit www.OneTrustHomeLoans.com.