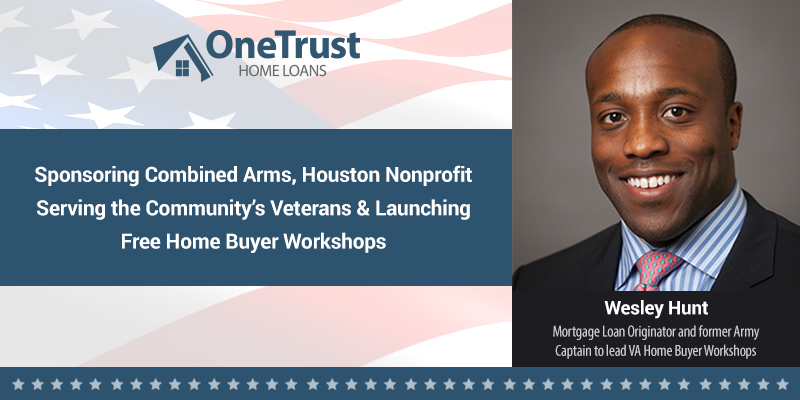 OneTrust Home Loans, a leading mortgage lender headquartered in San Diego, CA, is proud to announce its sponsorship of Combined Arms, a collaboration of veteran nonprofit organizations located in Houston, Texas, focused on pairing veterans to various services in the area to make the transition back to civilian life easier. The mortgage lender will also be offering free home financing workshops to the organization's participants.
Combined Arms' mission is to unite the community to accelerate the impact of veterans on Houston. Through the organization's regional referral system, veterans are able to learn about and access various programs and services that assist with job training, job searches, career placement, disability checks and more.
The organization's new facility, the region's only multi-organizational transition center which opens this month, provides free office and meeting space for member organizations, enabling them to redirect administrative costs to their programs and services catering to the local veterans.
As a Mortgage Loan Originator at OneTrust Home Loans, and former Army Captain, Wesley Hunt is passionate about the sponsorship. Having served the Army as an aviation branch officer for 8 years, with 1 deployment to Iraq and 2 deployments to Saudi Arabia, Hunt understands firsthand the impact the nonprofit will have on veterans and the Houston community. He comments, "homeownership is a key part of the American dream, we need to make this dream a reality for our veterans, and be proactive about preventing homelessness and the other issues that plague the veteran community."
Funds donated by the mortgage lender will go towards technology infrastructure for the new facility, as well as a variety of needs to support the nonprofit. In addition, Hunt will be providing free home financing workshops at the facility. Specializing in VA Home Loans, Hunt's workshops will educate veterans on their VA Benefits and home loan opportunities, and will walk them through the home buying process.
To learn more about Combined Arms, visit http://www.combinedarms.us/
To learn more about more about VA home loan opportunities, visit https://onetrusthomeloans.com/lo/WHunt
About OneTrust Home Loans
OneTrust Home Loans is a privately-owned direct lender with sales and operations across the country. The mortgage lender provides an array of loan options including conventional, FHA, VA, USDA, Jumbo and more. OneTrust Home Loans places special importance on customer service as evidenced by their tagline, Service is everything!® For additional information visit www.OneTrustHomeLoans.com.