Summer is filled with plenty of fun activities, including spending time with family and friends outdoors. If you're one who enjoys entertaining, hosting parties in your backyard might be on your horizon. Getting your backyard in prime condition for these fun summer time activities can be easier than you might think, and kind to your budget. Check out these quick and affordable DIY projects for your backyard that are bound to get it in that "summer body shape."
From building a small backyard couch to sprucing up your garden, many of these projects will take you less than a day to complete.
Build Your Own Backyard Couch
Are you always short of seats when you have company over? Look no further than a DIY backyard couch. All it takes is a few cinderblocks, a few pieces of lumber, and some super comfortable cushions and BAM. There's a fresh new couch for your guests to relax on all summer long! This is a very simple couch to build and should only take you about an hour or so to complete. For directions and project credit, check out Lena Sekine.
Build a Backyard Fire Pit
Who doesn't love a night out by the fire pit making some s'mores? I know I do! Fire pits are great for outdoor entertaining, and when the cool summer nights hit, you'll be prepared. You can build your own fire pit without spending too much money. All you need is some brick or stones to start this DIY project. Check out A Beautiful Mess to find directions on how to build a fire pit in 4 easy steps!

Create Your Own Outdoor Theater
Imagine a beautiful summer night in your backyard, sitting on your new couch while next to your fire pit….with a movie playing on your own outdoor movie screen. Yea, talk about being the envy of your entire neighborhood and group of friends. If you like entertaining, this is a great summer DIY project to take on, especially if you already own a projector. You can grab some screen fabric for less than $40 per yard or you can just grab a white sheet or tarp. Once you get the screen prepped, all you need to do is hang it up and grab your chairs or pillows to get comfy out in the grass. For directions and project credit, check out Running-w-scissors.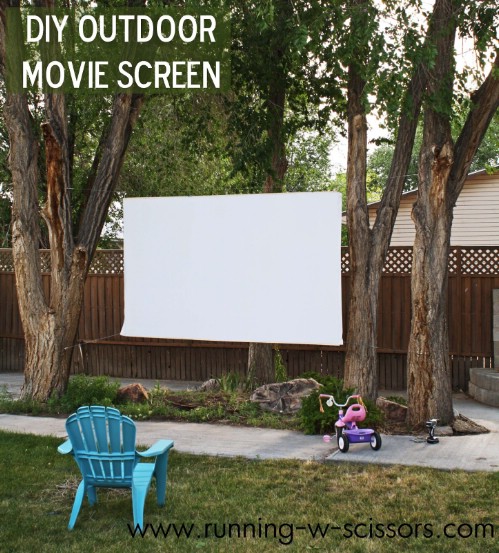 Well, there you have it! A few simple DIY projects for you to take on this summer. If you're interested in learning more about OneTrust Home Loans and what we offer, check out more of our blogs today!